For more details, please go to:
国内:
https://item.taobao.com/item.htm?id=576141575067
Oversea:
https://www.ebay.com/itm/283536362871
ALK8266WIFI Module Extends MCU Capabilities to Tranceive in an efective speed of 1+MBytes/s
ALK8266WIFI, the Practically Functional, High-Throughput, Stable WIFI module Solution, Very Sutiable for High-Speed and bulk data transmission in MCU System
1 What is ALK8266WIFI ?
ALK8266WIFI is
a high-performance WIFI module based on ESP8266 SPI
with an effective transceiving throughput exceeding 1 Mega-Bytes[/color] per second(Mbytes/s), and verified by many mass and long-term deployments. It is a High-Speed WIFI module, practically functional, easy-to-integration, stable, and very suitable for MCU system with high-speed and block data transmission. Logically it is a converter between an SPI Slave Port and TCP/UDP WIFI packets.
2 What is Application Scenarios of ALK8266WIFI?
ALK8266WIFI module is suitable for "
MCU High-Speed WIFI communication
", applications such as Audio/Video WIFI tranceiving, High-Speed ADC Sampling and transmission, SD card Bulk File data tranceiving etc. Especially for those MCU platforms which have no SDIO/USB but only SPI interface, or DO NOT expect a complex integration of those interfaces, ALK8266 is a fairly good choice.
3 What are features of ALK8266WIFI ?
The solution is a result of the dedicated design with optimization covering module hardware, module firmware, and MCU host driver. The module firmware is customized from registers level to standard SDK . Therefore, it does not have those problems present in some traditional modules(e.g. frequent unexpected disconnection, communication halt, unexpected excetios, missing packets, and lack of practical functionalities). Mass deployment of more than 3 years tells that it is a high-speed, stable, flexible, and practically functional module solution:
(1) Effective High Speed, Efficient, and Short-Delay
>> Measured effective speed exceeds Mega Bytes Per secons, capable of fast transmission bulk data such as audio, video, and some other bulk data.
>> Nealy-RealTime tranceiving with a gap interval less than 1ms or even 10us, in favor of some applications requiring short-delay communications.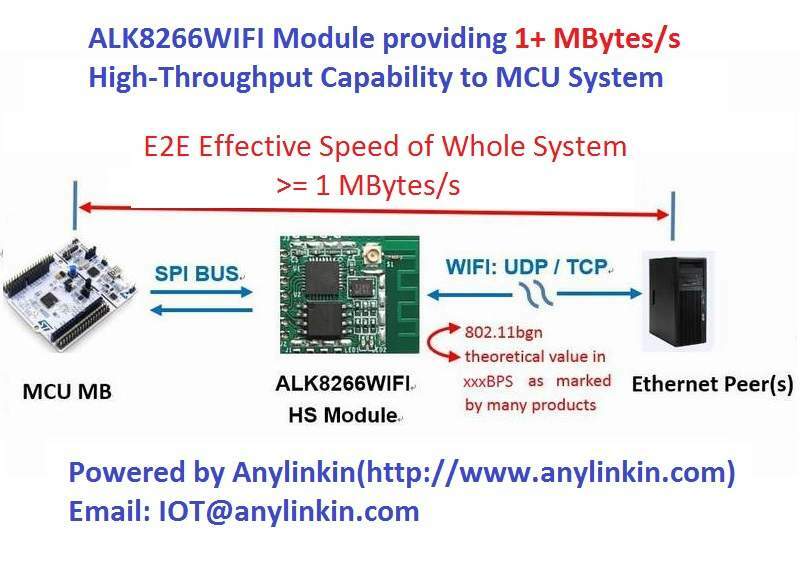 (2) Stable with extreamly Low Packet Loss (Actually no packet loss)
>> Reference testing result #1: In an ordinary office environment with a stable transmission speed of 1MBytes/s, module could run at least 720 hours without any packet loss or errors, no halt and disconnections.
>> Reference testing result #2: In an ordinary office environment, with a stable TCP transmission speed of 1MBytes/s for more than 5 hours, then to compare the transmission side and reception side, there is no packet missing and the two sides have the same datagram.
(3) Practically Functional, Versatile and Flexible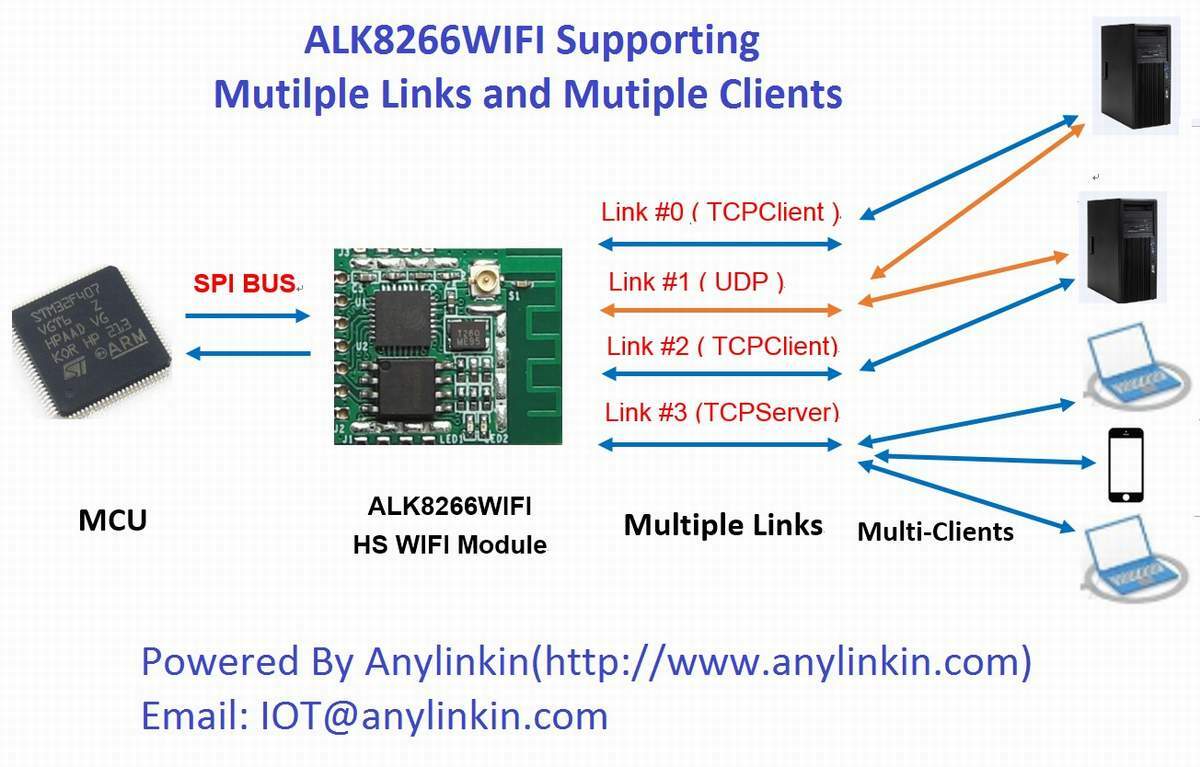 >>Flexible and Practical Solution of Wireless Communication
1 Supporting Multiple Access Infrastructures
(1) 3 modes: STA-Only, AP-Only, and/or STA+AP
(2) Communication capability without 3rd-part Access point such as routers
2 Supporting Static IP configurations for either AP or STA
3 Flexible and Practical Socket Capabilities
(1) Supporting UDP, TCP Client, and TCP Server
(2) Supporting DNS parsing and the target Socket could be in format of IP or domain
(3) UDP Supporting Broadcasting , Multicasting, and Unicasting
4、Supporting Multiple Link Channel and Multiple Clients
(1) Each Link could be configured independently to be a UDP, TCP Server, or TCP Client. If configured as TCP Server, able to be connected by multiple clients simultaneously
5 Supporting transmission of bulk data (e.g. files) efficiently
>> Easy, Flexible and Diverse Network Access Configuration(User interface of STA Access to AP/Routers), Adapted to Various Circumstance
1 Configured via an on-module WEB Page
(1) No necessity of additional APP, just use ordinary browser to input directly the SSID and password with barely no prerequisite limitations.
2 SmartConfig with progress infomation to lead a convenient operation with high-rate of success
(1) Compatible with EspTouch SmartLink SmartConfig
(2) In favor of WeChat Airkiss SmartConfig
(3) Available with Configuration Stage Notice to increase the operational convenience and success rate.
3 Direct Configuration
(1) Available with SPI Interface to Input SSID and password for access, no need of UART
(2) Compatible with UART AT commands by Espressif to input the SSID and password directly
>> Available with an On-Module Web Server to extend convenience and flexibilities of some operations

1 Operations with normal browser, no need of APP installation
2 Operations on Mobile, Tablet, Laptop, or PC
3 Adaptive Portal Supported
4 Directly Network Access Configuration, AP configuration, Socket Configuration, etc.
>> Embedded Encryption and Signature Algorithm
1 Help to signature MCU codes for anti-copy
>> Supporting Practical and Meaningful Low Power
1 Low Power Solution with prerequisite of adequate transmission power for adequate distance/speed
2 Sleep with manual or automatic wake-up, low power consumption to less than 1mA in deep-sleep
3 Capability of Power-Off and Power-Down, low power consumption less than 1uA
4 Associated Methods to support quick wake-up, and shorten the WIFI re-connect period, which leads the WIFI Low Power Solution practical and meaningful
5 Discussion with Customer to support Low Power from point of whole MCU system
(4) Dedicated Module Hardware Design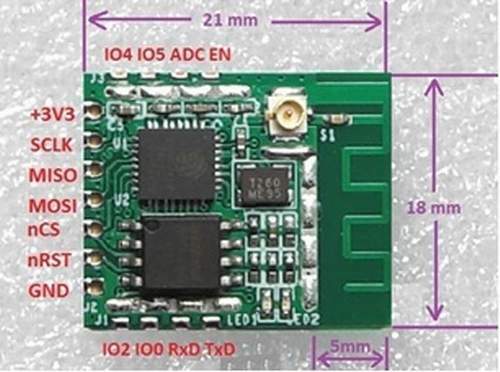 >> Design with Comprehensive Consideration and Technique of Signal Integrity, Power Integrity, and EMCompatibility, therefore, stable and no need of shield for a thin package with good heat release and verified by EMC certifications.
>> Factory Radio Frequency Compensation and supporting Frequency auto Calibration.
>> On-Module PCB Antenna in optimized Design, capable to transmission in 100+ meters distance without extern antenna
>> IPEX socket available for an external antenna to extern the communication distance and performance
(5) Adaptive Package in Small-size
>> Stamp-Style Pins with Full-hole and Half-Hole, standard 2.0-mm pitch
>> Assembly adaptive in Plug-In or SMT
>> Very Small Dimension, Close to the smallest coin
- With PCB Antenna L x W = 21 x 18 mm
- Without PCB Antenna: L x W = 18 x 16 mm
(6) Normal SPI Interface to MCU Host, Easy Integration and very Limited MCU resource occupation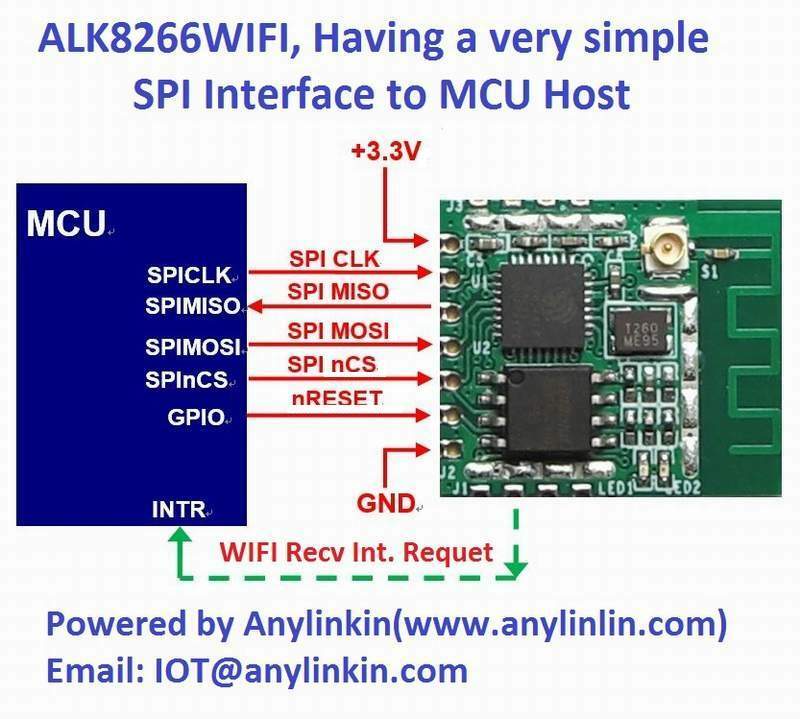 >> Standard SPI Slave Interface to MCU Host, adaptive to most normal MCU chip, providing a wide range of MCU solution selection.
1 Easy interconnection, only SPI bus required for all operations of configuration, query, and tranceiving, without necessity of UART Port
2 MCU Host Access WIFI Module in an ordinary SPI manner
>> TCI/IP Protocol Stack already integrated on-module
1 No need of TCP/IP Protocol Stack or OS integration on MCU Anymore
2 Therefore Easy Integration of the WIFI module to MCU system with very limited host resources requirement
(7) Available with many functional SPI APIs inside the Driver Library
>> MCU could call these APIs to configure, query the module and perform high-speed data transmission
>> MCU Host driver integrated with high-speed, high-efficiency, fault-tolerant, failure-correction, environment-adaptive and stable SPI access algorithm, to achieve a high-speed communication with very stable and efficient performance
1 High-Speed and High-Efficiency Algorithm in favor of a faster tranceiving performance faster than DMA
2 Balance Algorithm, based on analysis to the local parameters and RF environment, adaptive performing access balance and failure correction to ensure the performance and stalility
(8) Compatible with Espressif Standard AT Command, and providing Anylinkin extended AT commands
>> UART Baud Rate exceeding 2Mbps
(9) Available with MCU reference Code Projects, Documentations of Datasheet, Integration Reference Manual etc. And Technical Support
1 Easy integration, Debug, and Optimization
2 Scalability Design in levels and easy for Platform
(10) Verified by 3+ years Mass Deployment
普通单片机通过EPS8266模块实现有效速度超过M字节高速传输 并内嵌多功能WEB服务器
基于乐鑫ESP8266芯片做的单片机高速WIFI模块,功能全面和实用、高速、高效、可靠、灵活 适合单片机应用,批量化产品验证:
1. 有效通信速度快,效率高,通信实时性好
1.1 "实测的""有效"吞吐速度高,超过M字节每秒(MBytes/s),所以可用来传输音视频或大量数据
1.2 准实时性收发,连续发包之间的间隔可在ms级或us级,可适应一些对传输性实时性有要求的场合。
2. 稳定可靠不丢包,长时间通信不掉线
2.1 测试条件:普通办公室环境实测
2.2 测试速度:速度稳定在兆字节每秒(MBytes/s)以上
2.3 长时间运行测试:持续运行30天,不掉线、传输不停止/不卡死
2.4 丢包测试:TCP通信持续测试5小时以上,不丢包、不多包,不丢字节、不多多字节,收发方数据完全一样。
测试场景包括:(1)TCPUDP抓包软件单纯发送, 模块单纯接收
(2)TCPUDP抓包软件单纯接收, 模块单纯发送
(3)TCPUDP抓包软件同时发收, 模块同时收发
(4)两个WIFI模块之间互相对发对收
3. 功能全面,使用灵活,使用场合适应面广
3.1 灵活实用的无线通信
3.1.1 模块支持 工作站STA, 热点AP 以及 STA+AP 混合模式,无论是否存在第三方热点,都可实现通信
3.1.2 支持UDP,TCP客户端,TCP服务器,灵活方便
3.1.3 UDP通信支持广播、组播以及单播,灵活高效
3.1.4 支持多链接,每个链接独立随意配置,实用的多通道高速通信
3.2 内嵌WEB服务器,操作更灵活和便捷
3.2.1 无需安装APP,直接通过常见的浏览器操作
3.2.2 普通智能手机或电脑均可直接操作
3.2.3 支持"自动弹出网页"功能
3.2.4 可通过网页直接配网、配置热点、建立和查询链接通道信息等操作
3.3 配网方式灵活多样方便
3.3.1 WEB网页配网:勿需安装APP,直接输入,简单方便,受限条件少
3.3.2 智能配网:SmartConfig/SmartLink, 微信Airkiss扫一扫
-特色 提供配网进展灯闪烁样式,提高智能配网操作方便性。
3.3.3 直接配网:串口AT指令、SPI接口API函数 直接输入
这里有市面上各种配网方式的原理、优缺点以及适应场合对比分析说明,供参考
https://zhuanlan.zhihu.com/p/30368230
3.4 内嵌RSA加密和签名算法
3.4.1 可作为加密芯片使用,支持单片机固件的防复制
3.5 支持有意义的低功耗
3.5.1 确保有用发射功耗足够强传输距离足够远的前提下的低功耗机制
3.5.2 支持休眠,自动唤醒或手动唤醒
3.5.3 深度休眠电流低于1mA
4. 封装灵活、尺寸小巧
4.1 整孔和半孔(邮票孔)一体化设计
4.2 兼容插件方式或贴片装配方式
4.3 大小和一枚1角硬币相当
5. 常见通用的SPI单片机主机接口,集成简单,占用单片机资源少
5.1 主机接口为标准的SPI从,适配绝大多数的常见单片机,单片机选型范围广
- 硬件接线简单,只需要标准的SPI总线管脚,无需额外的UART串口
- 按照普通的SPI从机方式对模块进行读写,实现单片机与模块的配置查询以及传输通信
5.2 模块上已集成了TCPIP协议栈,
- 单片机无需再集成相关协议栈或操作系统,
- 因此集成简单,占用单片机资源少,且通信效率也更高
6. 提供单片机例程包、集成说明等资料文档,和技术支持
6.1 单片机例程包都经过实际测试和验证
6.2 集成说明文档和开发使用技巧,都是基于开发经验和客户反馈总结编写,非简单的协议复制
6.3 可提供目前市场上主流的单片机例程包,包括但不限于:
- STM32系列、
- K60系列、
- NXP系列、
- C8051系列、
- Nuvoton新塘系列、
- TI MSP430和C2000/C5000
- 等
更多详情可访问如下链接,或向我们索取进一步的详细资料:
淘宝地址:
https://item.taobao.com/item.htm?id=576141575067
本帖的目的,仅仅只是一个抛砖引玉的例子,以表明,我们可以在乐鑫ESP8266芯片上,做很多很多很好不错的功能。 大家一起来吧。